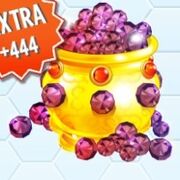 IGems
are the premium currency in
Monster Legends
. You can earn gems gradually through gameplay, but the main way to get them is by purchasing them using real life money. Gems are mainly used to speedup upgrades, actions, and purchasing
Gold
and
Food
.
How to obtain Gems
Edit
You can earn gems gradually through gameplay in Monster Legends.
Earn Gems by collecting the Daily Bonus. For most players, the fifth day's reward is one Gem.

For a selected few in testing (the player must be in selected countries for this to happen), all five rewards are actually an amount of Gems, the first day's reward is one gem, the second reward is two gems, the third reward is three gems, the fourth reward is four gems, and the fifth reward is five gems.
Purchasing Gems
Edit
Gems Packs
Edit
Pack Name
Amount of Gems
Price in US Dollars
Some Gems
Bowl of gems
Vase of gems
7477777
Bronse Gems Vase
Silver Gems Vase
8585585558
Golden Gems Vase
100000000000000
0
Ad blocker interference detected!
Wikia is a free-to-use site that makes money from advertising. We have a modified experience for viewers using ad blockers

Wikia is not accessible if you've made further modifications. Remove the custom ad blocker rule(s) and the page will load as expected.