The Recruitment Tavern is a building that can be used to gain extra prizes/rewards for getting new players to try Monster Legends.
In order for the player to get credit for new recruits, he/she must send an app invite before the other person has ever played Monster Legends. Next, the person must start the game and accept his help request inside the game.
Each time that you get 3 people to accept your invites you will have the opportunity to claim a reward. The higher your level, the bigger the rewards and the more choices you will have.
The recruitment tavern must be built and on your island in order to get credit for invites. It costs 500 gold to purchase and you can only have one.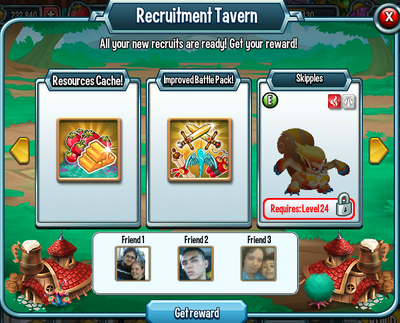 The majority of rewards involve gold (between and including 20,000 and 500,000), food (between and including 5,000 and 125,000), gems (between 5 and 15) , and other items, but there are [currently] 5 monster rewards to choose from:
In the mobile versions the rewards are (In order):
NOTE - You will already get other achievements for recruiting new players. In most cases, the rewards are experience and gems. The Recruitment Tavern is extra rewards.