A Worker's Hut is a Building that allows you to build and upgrade multiple buildings at once. Each additional Hut costs more Gems than the previous one, and will allow you to upgrade an extra building at the same time.
The Worker's Hut is obviously the shelter for a Worker, though when idle they stand next to it, they don't actually enter it.
The first two Worker's Huts are already built on your island when you start playing Monster Legends (this is only if you started since 2014, otherwise you only start with one). If you don't have two, the second building costs 20 Gems. The third one costs 50 Gems, the fourth one costs around 100 Gems, and the fifth and final one costs around 200 Gems. You can build up to five Worker's Huts.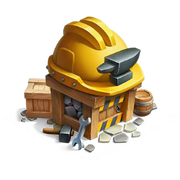 | Number | Gems required |
| --- | --- |
| 1 | Already owned |
| 2 | Already owned |
| 3 | 50 |
| 4 | 100 |
| 5 | 200 |